The End We Start From
by Megan Hunter :: Okay. A scary love story. I read it in bed, a mistake, because as soon as I finished, I had to start a different book, to cleanse my emotional palette, which was colored scared. It made me wonder if I needed to stock up on canned goods. Or move away from the sea. Or get a Jeep.
The writing was excellent, sparse & powerful. I had no problem with the initialized names.... they were lighter and easier to hold & release in the fluidity of the evacuation.
Most of the disaster takes place "off-screen," the keywords breaking through the static quite enough. I felt so sad for London. Oh, and the epigraph is outstanding.
Thank you to Edelweiss & Grove Press for for the opportunity to preview this ARC. I will refer it to my book group. ****
Uncommon Type: Some Stories
by Tom Hanks :: Loved these interconnected stories, linked and separated by classic typewriters. Interesting characters & situations, surprisingly good writing, really fun. I think it will be huge, esp. For holidays. Thanks to Edelweiss & Random House for the opportunity to preview this ARC. *****
Get Well Soon
by Marie-Sabine Roger, translated by Frank Wynne
::
How good is this book? Well, I'd just moved... and found time to read it among the boxes & furniture placement. In spare, first person, translated from the French prose, Ms Roger presents a widower, Jean-Pierre, in hospital, recently fished out of the Seine. At some point in his recovery, he decides to journal this experience -- and some of his life -- which forms the novel. His present world, includes a teenage girl (also a patient) who borrows his laptop to update her Facebook page), the young policeman who brought him to the hospital, a young French rent-boy who saved his life, nurse Myriam, old friends via email, and disconnected family.
Our hero is basically a lonely old codger, now with broken bones & a broken spirit to match... and he's pretty sure he wasn't trying to kill himself. But he does not know why he fell off a bridge, into the Seine, in the middle of the night.
The journal format tracks his physical and spiritual healing. But not sweetly... one is not overwhelmed by the wonderfulness of life. No, this mish-mash of characters each have hidden lives, which frequently irritates or confuses the others. Revelations are deliberate, interesting, and not completely unexpected.
I liked it so much I was surprised & disappointed to find myself at the end. I'm almost tempted to read it in French. Thanks to Edelweiss & Pushkin Press for the opportunity to preview this ARC. *****
Sourdough
by Robin Sloan ::
Mr. Penumbra...
made my Top 10 list that year, so I've been eagerly awaiting Sloan's next. S
ourdough
satisfies in a similar way. Diverse areas: robotics, food preparation & selling, bread baking, long-distance "love," restaurant wars... Lots going on, interesting characters & situations, in-depth (yet interesting) info, techie female 1st person perspective. Made me hungry, wished I could try some of the bread & soups described. Not necessarily an inferior book to his first, but because I don't cook and I do read, this one seems slightly slighter.
But I read to the end & didn't skip, so I'll say his writing was engagingly good. Please, sir, I'd like some more! Thank you for the opportunity to preview this book. ****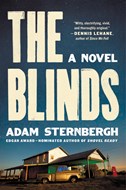 The Blinds: A Novel
by Adam Sternbergh :: Read the whole book, but do not know why. Too dark, confusing, nasty, violent, what's the point? To show the real bad guys are the mind manipulators? My second Sternbergh, so good writing for yucky characters and situatiions. Was not satisfied and pleased at the end, just relieved that it was over. Was there any real change effected? For men mostly, I think. Thank you for the opportunity to preview this book. **
Woman No. 17: A Novel
by Edan Lepucki :: Publisher says: "When Lady decides to take a break from her husband, she hires a live-in nanny so she can finish her book—but also possibly to avoid her children. S, a young artist/student, arrives on her doorstep to interview for the job and instantly connects with both her sons, but soon begins to act in a way that causes Lady to question her reason for being there. This twisty, moody, bizarre, and confidently written second novel is a riveting exploration of female friendship."
My friend Susan really liked it. I did not find it so. It was easy to put down and ignore. I skipped ahead to the ending, just to see where it might go, and was both happy and bothered that I did. Writing was good, characterizations so-so, timing way too long. Semi-interesting plot points. Thanks to Edelweiss & Hogarth for this review copy. **
The Thieves of Manhattan by Adam Langer
:: Interesting meta-fiction novel of the publishing world scandals of seven years ago. NY inside industry inside gossip, funny eponyms ("atwood, chabon, lish, daisy), con games with confident men, love stories, scandals, revenge, meta-art world, creative use of the Dewey Decimal System. Very readable, amusing aesthetic. Went quickly and I read most of the pages. ***
1/2
Letters to His Neighbor by Marcel Proust
:: It's quite short, mostly letters complaining about the noise. But for someone like me, who studies Proust & his work, an fascinating sidebar incorporating his over-the-top letter-writing style, his pickiness, his flattery skills. Short, but fun, interesting intro by Tadié, lovely translation by L. Davis. **** Thanks to Norton, New Directions, & Edelweiss for this ARC.
IQ by Joe Ide
:: I really enjoyed this debut novel of an LA PI. Good characterization, excellent writing & dialogue, unfamiliar situations & bad guys with bad dogs, good guys with good hearts, everyone just trying to get through their lives. IQ's love for Marcus shines through, informing his life. Will read more if a series is in the works. Or if not.
(I know IQ is a fictional character, but I would like him to get the GED or take classes. He would too. Weird, I know, but such a great character. Not flimsy, great negotiator.) ****
The Proust Screenplay: A La Recherche du Temps Perdu
by Harold Pinter :: Pinter and friends take on a daunting task here... Distilling Proust's 7-volume masterwork into a two-hour movie. I've read the whole book, I lead a group that's reading it with me again, so I got it, I loved it, I was visualizing his scene descriptions and quick-flash images. So all I can say is-- Is Julie Taymor or Mira Nair available? And that British costume designer who wins all the Oscars. It wouldn't be that hard, it wouldn't make any money, but boy, would it ever give you Proust-at-a-glance. *****
Grief is the Thing with Feathers
by Max Porter :: Strange, wonderful, beautifully imagined & written. Not easy, but worth it, and spot-on. Kudos. ****